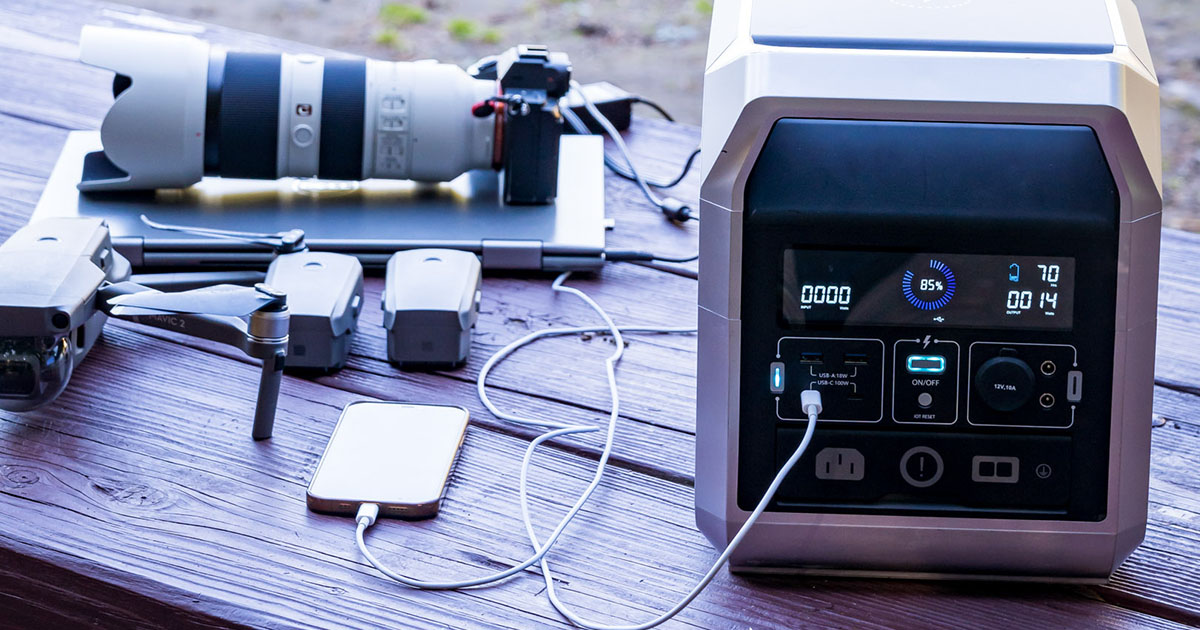 Captain 1200, The Most Popular Gift for Father's Day in 2023
What is Captain 1200?
Captain 1200 is a portable power station produced by Vigorpool, a rising brand in the battery industry. It is composed of lithium iron phosphate batteries(LFP), which allows Captain 1200 can still retain 80% of the capacity of the ultra-long standby power after running 3500 + battery cycles. The extra long utilization time will ensure you use electricity safely and constantly to concentrate on your work when you are busy, or you won't be distracted when you enjoy your time with your family and friends.
It possesses a high output power of 1200W and is the first parallel function in the world that can consolidate two solar generators and enhance the power and capacity immensely. The parallel function can boost the power to 2400W and the capacity to 2560Wh. Therefore, it can meet people's electricity needs for daily cooking, watching TV, or mechanical work that requires vast electrical power.
It only needs to cost 1.5 hours to return to a full charge. Therefore, you can save time on charging. In addition, if paired with Vigorpool's solar panel, the portable power station will produce sufficient electrical power originating from solar energy, protecting the environment, saving money, and reducing fossil fuel consumption.
Why is Captain 1200 the Coolest Gift for Father?
Outstanding appearance and performance
Captain 1200 is equipped with an ABS casing which is robust and rough. The Captain 1200 has a simple and elegant appearance and varied functions. Captain 1200 will surprise and satisfy you with its features and advantages. In addition, the Captain 1200 portable power station can stay with you for a long time because it has good quality, making the solar generator more durable and forgiving. Moreover, the Captain 1200 portable power station can accompany you for a long time because it has good quality, making it more durable and tolerant.
Captain 1200 can support you with an everlasting and stable energy supply, the same temperament as a father's iron man-like toughness and fatherly tenderness. So it was wise for you to give it to your father as a gift. Because Captain 1200 is not only a gift but also capable of indicating your understanding of the meaning of being a father, which expresses your gratitude toward your father's long-standing and silent love and support.
High practicality
It has a large capacity and parallel function. You can connect two solar generators in parallel, doubling the power and capacity to meet the electricity needs of the whole family.
Portability
When your father plans to take the whole family out on a field trip, using a portable power station can spice up the family's time together. In the past, when there was no solar generator, the family might only take a sandwich to a picnic and have to charge everything in advance fully. Your father even needs to worry about the power from time to time. Now your father won't have to worry about this series of problems. Even you and your family can host a barbecue, cast a screen in the field to watch movies, play music, and so on without the worry about a power outage.
Multiple Outputs
Most fathers need manual work; the portable power station will be an essential assistant in the garage or garden where there is a lack of plugs. Chainsaws, drills, blowers, and other appliances can be powered when driven by the portable charging station. At that time, your father won't waste time and money on finding the right socket and wire anymore. What he only needs to do is focus on the formal manual work. At the same time, using a solar generator will enhance the safety of the work. A portable power station is safer and easy to operate. Therefore, giving