Vigorpool Captain 700 Portable Power Station US Launch
At Vigorpool, we are thrilled to introduce the latest addition to our energy storage lineup, the Captain series. The series includes the Captain 700W Portable Power Station, the Captain 1200W Portable Power Station, and the Vigorpool Foldable Solar Panel for Portable Power Station (100 W and 200 W).
The key highlights of this product series are as follows: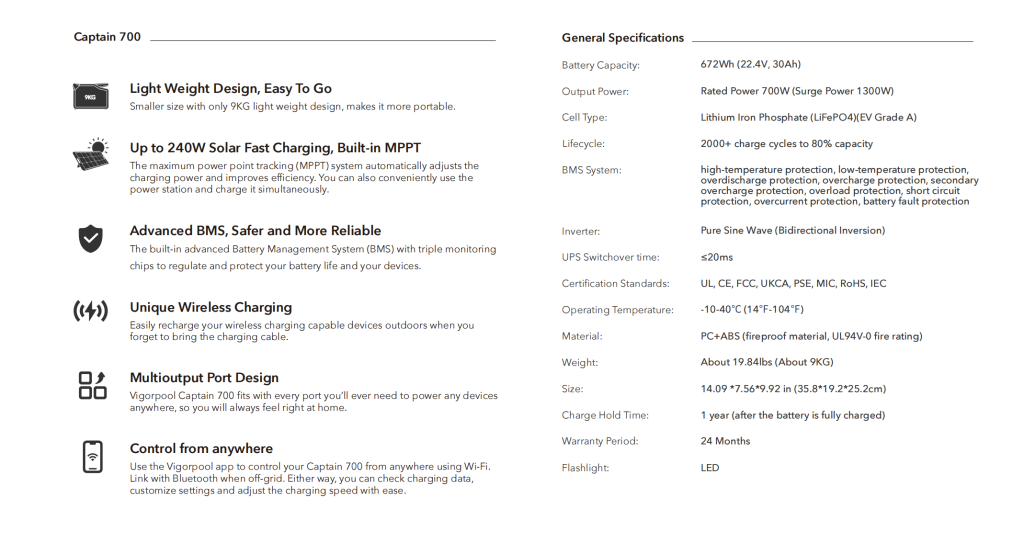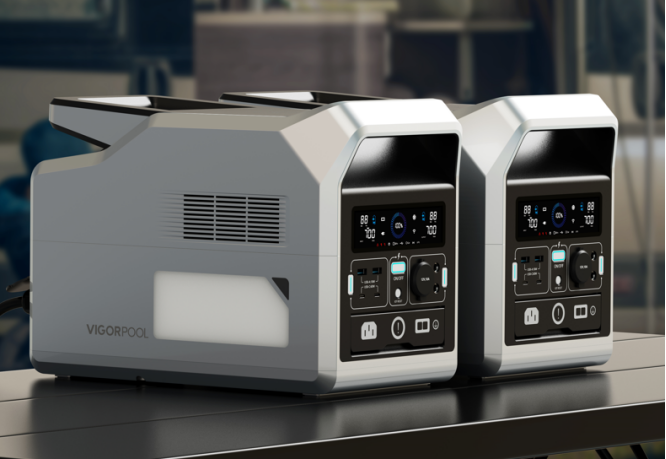 Vigorpool Captain 700 power station is the most recommended model for beginners who want to upgrade the traditional loud bulky generator to a clean, silent, and light portable generator, thanks to its innovative inverter technology which reduces noise levels without compromising reliability or safety features!
The World's Unrivaled Parallel Function
Users can pair 2 units of our Captain 700 with the given cable to get double capacity from 672Wh
to 1344Wh and double output power from 700W to 1400W which is more flflexible and more
convenient for users to switch different using scenarios like from outdoor activities to home backup, making it easily supports high-power devices.
The World's Most Reliable UPS Function:
When used as an emergency power source during a blackout, Captain 700 kicks in automatically and
provides you with power in 20 milliseconds.
1.5 Hours Safety Fast Charge, Don't Damage the Battery:
Captain 700 allows various fast charging methods, such as charge by solar panel (240W), by car (192W)
and by AC wall socket (600W). It takes only 1.5 hours to fully charge from 0% to 100%. The Captain
700's safety fast charge design strictly according to its battery specififications to aovide any damage to
the batteries.
10+ Years Lifespan with Daily Use:
Captain 700 uses the safest and most durable Lithium iron phosphate (LiFePO4) battery instead of Li-ion (NMC) battery in other brands, which allows last 5-7 times longer lifespan (2000+ Cycles to 80% capacity) than others.
Smart App Control
Integrate Captain 700 with your home, then track, monitor and control your electronic devices and appliances all from the Vigorpool app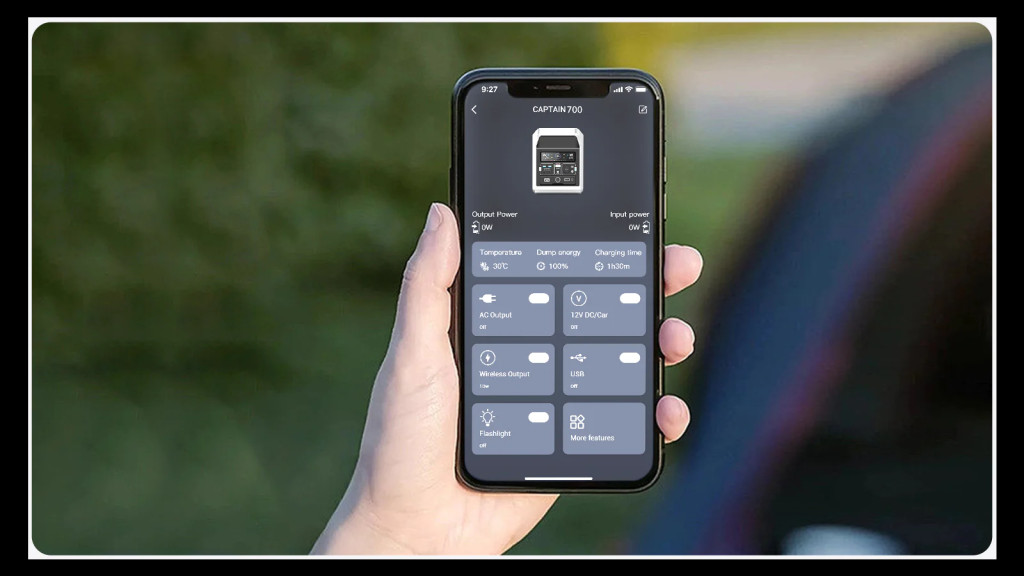 Step into a new era of portable power with the Vigorpool Captain series. It goes beyond being a mere portable power station. It serves as your reliable and sustainable energy source, simplifying on-the-go charging and providing the ultimate backup power solution for your home. We are thrilled to introduce the Captain series, offering our valued customers the chance to embrace safe, efficient, and environmentally friendly energy.
Visit our website now and secure the Best Early Bird Price $499 for the newly released Vigorpool Captain 700W Portable Power Station.Take action today, as this incredible Early Bird Price won't last forever. Be among the first to experience the power, reliability, and eco-friendliness of the Captain series. Embrace the future of energy and take control of your power requirements with Vigorpool!